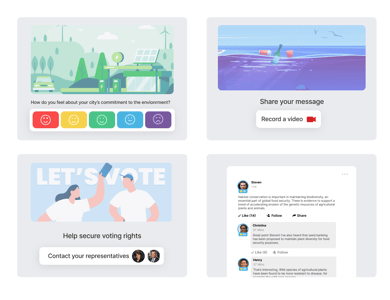 Countable's audience engagement features are designed to help you connect with your audience and build a community of supporters. From voting and commenting on articles to messaging policymakers, you'll have the tools you need to inspire your audience to take action.
Policymaker contact
Empower your advocacy efforts with the ability to directly contact policy makers. Utilize the geolocation functionality to match supporters to their specific policy makers and send targeted messages.
Petitions and polls
Collect signatures for a petition or gather opinions through polls to involve supporters and make their voice heard. With real-time tracking, you can monitor the progress of your campaigns and see the impact you're making.
Community feed
Reach Canadian lawmakers. With Canadian Lawmaker Messaging, expand your impact and run campaigns at the federal level in Canada. Our district matching functionality connects you to your specific federal lawmakers.
Supporter profiles
Get to know your supporters with customizable supporter profiles. Display their information, bio, social links, points earned, activity feed, and more. Build a connected community with personalized profiles that showcase each supporter's impact on your campaigns.
Newsfeed & resource library
Easily publish the latest campaign articles, videos, and user-generated content to keep your supporters informed and engaged. Create a seamless user experience by providing supporters access to the information they need in one convenient location.
Leaderboards, badges, & gamification
Multiply user engagement with optional gamification features. Encourage supporters to take action by awarding points, climbing the leaderboard, and displaying badges on their profiles. Drive lasting engagement and unleash the full potential of your campaigns!